Homepage is where the heart is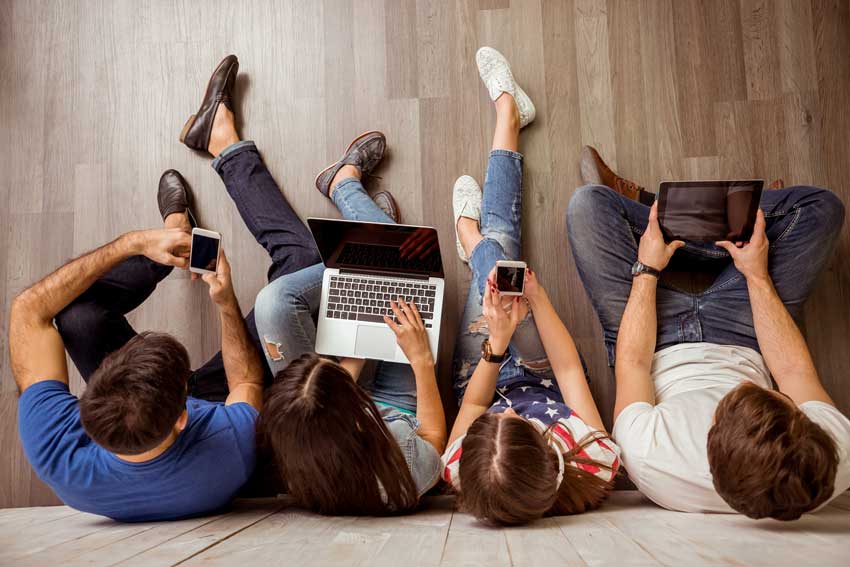 Six important elements that should be on your business's homepage
A homepage is the virtual front door to your website and business. This is where potential customers will convene, learn more, and ideally take the next step towards engaging with your products and services.
Generally, your homepage will receive the greatest amount of web traffic. It has an important job to do for your business — it must juggle the duties of capturing attention, sharing information, encouraging action, and inviting communication. So what can you do to ensure your homepage is performing as it should?
We have summarised six critical elements that every homepage needs to have.
Six steps to a great homepage:
1. HEADLINE
Your website will be subject to a critical period of ten-second judgement when customers first visit the homepage. It is imperative that you give visitors an idea about what your business has to offer during this timeframe, because their attention will immediately begin to drop — and they may click away from your site altogether.
The number one way to express the heart of your business is with the headline. For example, nucleo's headline is: Full service marketing agency. It is simple and decipherable, while the phrase 'full service' establishes an idea about ease-of-use and multiple capabilities. You want your headline to be a short, succinct summary that explains who you are and what you do.
2. SUB-HEADLINE
The sub-headline should follow and emphasise the headline, offering a direct description about your products or services. nucleo's sub-headline is: Creating communication that works. Again, it is simple and free of jargon, plus it zeroes in on the priorities of our business — to create and communicate.
When deciding on your sub-headline, think about the message you are trying to share with potential customers. Essentially, you are explaining your point of difference, and persuading visitors that you have solutions to their needs.
3. CALL-TO-ACTION BUTTONS
Call-to-action buttons (CTAs) are used to guide your potential customers to the next level of engagement, such as making a purchase, submitting an enquiry, or signing up for a blog. Your CTAs should be eye-catching and action-oriented, using short and persuasive phrases like 'Sign up', 'Contact us', or 'Get started today'.
Importantly, your CTAs should also make clear what action will result from clicking it, so visitors get exactly what they want.
You may like to consider having both primary and secondary CTAs. Primary CTAs are located on the top half of the page; these are problem-solving, compelling buttons, which should be immediately noticeable in order to point users in the right direction. Meanwhile, secondary CTAs offer conversion opportunities at the bottom of the page, in a natural stopping point. These are well located to appeal to users who have absorbed your information and are ready to take that next step.
4. BENEFITS
Your homepage should make clear the features and benefits of your business. In other words, you want to inform the user about your products and services, and briefly explain why these matter to the potential customer.
Using nucleo's homepage as an example, you can see that we clarify our six central services within an interactive grid, which summarises the benefits of each area. We use several different techniques here: the copy is lightweight and quick to read; we engage the customer through use of 'you'; and we use compelling language that explains the advantages that nucleo can provide.
Once again, this element is all about expressing the unique potential of your business, so visitors will be compelled to stick around, learn more, and take action.
5. IMAGES
We are naturally attracted to visual elements. Large blocks of text can overwhelm the eye, while images can be an attractive and engaging way to strengthen your homepage, capture emotion, and make a great first impression.
There are many different ways that you could use images to enhance your homepage. Photographs behind your headline can help to immediately indicate what your business does. Staff headshots or local imagery could help to forge a more personable connection with your customers. Or, like nucleo, you could include images from past projects to display the standard of your work.
Ensure your visuals are relevant, supportive, and high quality. This will better reflect the professionalism and innovation of your business.
6. NAVIGATION
Many of the visitors on your homepage may be seeing it for the first time. They will be deciding whether or not to explore further, and you want to ensure that they can do so easily.
A navigation bar on the top or side of your homepage will act as a clear pathway for users. It should be easy to locate and easy to use. The links within it will typically be arranged in a hierarchy, with the most important web pages at the top, less important pages in the middle, and a 'contact' link at the bottom.
It is a good idea to test your homepage to ensure your navigation tools are well-structured and intuitive to visitors' needs.
Other ideas to consider:
Customer testimonials — a few positive statements are a great way to provide social proof of your reliability, quality, and trustworthiness. This can make prospective customers feel confident in taking the next step.
Videos — like images, use of videos or animations can be a creative and original way to share information, engage visitors, and communicate the innovative style of your business.
Free content — everybody likes free things. Adding a link to additional resources or offers is a great way to build trust with customers and teach them more about your company. This could include a downloadable eBook, a sign-up for a blog, or a free sample of your products. Remember: the longer people stay on your website, the greater your opportunity for conversion.
Optimise for mobile
Your homepage may look perfect on your computer — but don't forget to make it fully responsive across all devices and platforms! This means optimising your headline, sub-headline, CTAs, written content, images, and all other elements, so they look and work as they should on all desktops, laptops, tablets, and smartphones.
Mobile-friendly websites not only rank better on Google, but will also provide a better user experience, which encourages return visits and fosters positivity between your company and your customers.
Need help?
Your website's homepage could welcome new customers across the threshold, or it could close the door in their face. Make sure your homepage is doing all the right things to improve your online marketing!
nucleo has the expertise and experience to design a great website that suits your needs and improves your conversion rates. Get in touch with us today to find out more.