In One Year & Out The Other
nucleo's year in review — 2016
Slowly but surely (or promptly and panic-inducingly, depending on who you ask), 2016 is coming to a close. Decorations adorn the office, our holidays are drawing near, and we're all feeling a little bit pensive.
We have had some amazing experiences throughout 2016. We reached new places, welcomed new friends, and kicked new goals. We hope you will enjoy this year's final blog post, as we take time to reflect on the journeys we've taken and the adventures that lie ahead.
8 New Team Members
This has been a prosperous year for internal growth, with nucleo welcoming not one, not two, but eight new staff members into our midst. We have marketing coordinators, studio managers, UI developers, web developers, graphic designers, strategists and more — nucleo has team members coming out the wazoo!
These were necessary and highly welcome arrivals; many hands make light work, but with so many exciting projects on the horizon, we're still as busy as ever (and happily so).
We now have plenty of experienced, talented, clever people in our offices, clunking their noggins together to come up with brilliant marketing plans for our clients. So to Alexandria, David, Emily, Florian, Jakob, Kristy, Sarah, and Stewart, thank you for being here with us. And to the rest of our awesome team — cheers for sticking around!
2 New Offices
We needed more staff members to accommodate our growing client base. Then we needed bigger offices to fit the staff members. So we were very excited to strengthen our local connections with new offices in Armidale and Wollongong this year.
nucleo's Armidale team have been calling the town 'home' for over eight years. But with a rapidly expanding team came the need for a bigger studio. In what was a very exciting investment for nucleo, CEO Andrew McCann purchased a new office space in the centre of town, and set about renovating it to suit our needs. Walls were knocked down, boardrooms were created, extra tables were acquired — and after months of hard work, the new studio is finally ready to be used. Bring on 2017!
Meanwhile, nucleo has had team members floating around the Illawarra for the past two years, assisting clients and delivering projects, but never from a dedicated office space. Thus we were thrilled when the opportunity arose to open a long-awaited studio in the heart of Wollongong. This new space provides us with somewhere to convene, grow our team, and extend our reach. We eagerly anticipate being able to provide even bigger and better marketing services in the new year.
One Nomination For Business Chamber Award
nucleo was honoured to have been selected as a finalist for the NSW Business Chamber 'Excellence in Small Business' Award. This program celebrates business success at a local, regional and state level, with our nomination recognising the significant growth and strategic accomplishments of our company.
Furthermore, we were a proud sponsor and attendee of the Armidale Business Chamber Awards. In September, nucleo came together with our community to celebrate and share the achievements of local businesses, with 2016's Awards attracting a record field of nominations.
46 New Websites Launched
nucleo first came into the world as Webcessity, a software development company with a small team (many of whom are still with us today!). We've come a long way since then, and have earned a great reputation for the oodles of new skills and services we provide to our clients.
Nonetheless, web development runs through our veins. Not to toot our own horn, but we excel at it (toot toot) and continue to impress with the rate at which we can design, write content for, optimise and implement amazing websites and applications for different kinds of industries. This year, we saw forty-six new websites go live, and made responsive, user-friendly adjustments to countless others to help improve our clients' digital marketing.
432 Projects Sent to Print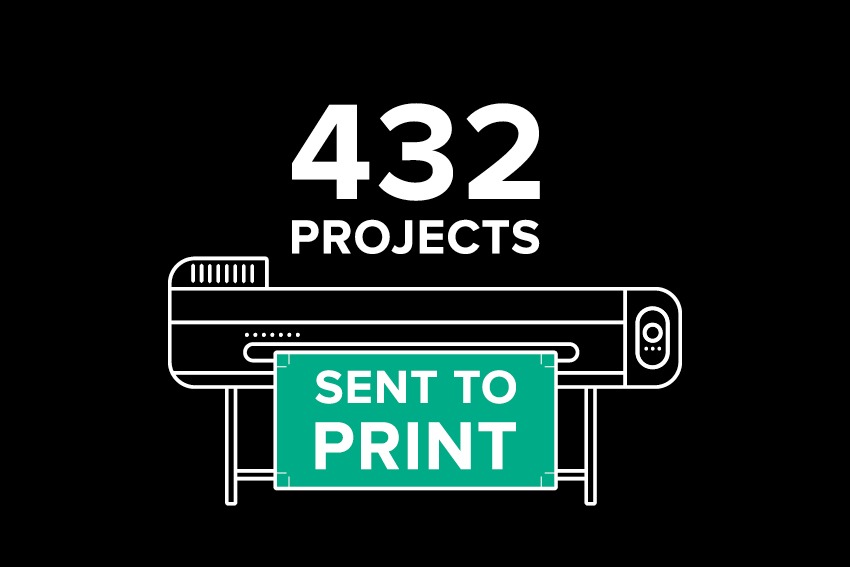 The addition of new graphic designers to our team has dramatically heightened the versatility, skillset, and turnaround time of our creative services. And despite the tragic Printer Breakdown of October '16, we have finalised more banners, brochures, business cards, calendars, flyers, folders, letterheads, magazines, and other print designs than ever before.
37 Additional Clients Acquired
After a very busy year of both one-off projects and ongoing arrangements, nucleo worked with thirty-seven clients for the first time in 2016. That is, of course, in addition to the many long-lasting client partnerships we have forged in the past few years.
Furthermore, our increasing workload has allowed us to gain insight to an even larger number of industries. We have worked with clients in all types of fields: finance, education, tourism, healthcare, hospitality, Information Technology, community services, law, arts, and more.
This past year, we added a few more notches to our belt, with clients and projects relating to sport and recreation, IoT (Internet of Things), and fashion. We loved having the chance to expand our knowledge, and look forward to exploring other avenues in future.
Purchased 11 New Computers
What else can you do with new offices but fill them? In anticipation of an expanding team, a diversified service list, and a busier work load, we acquired 3 Macs, 5 PCs, 3 laptops, 3 tablets, 1 Nikon D3300, 2 tripods, 2 GoPros, 1 DJI quadcopter, 20 desks, 20 chairs, 5 televisions, and a partridge in a pear tree.
Most Popular Blog Post
A revitalised content marketing plan brought a welcome revival of our blog. Throughout 2016, we published 31 blog posts (which incorporated images, infographics, videos, and 32,106 words). Of these, 'Depth of Field' (a photographer's guide) was the most popular, followed closely by 'Digital Technology & The Economy of Your Business' (a discussion of E-commerce and the importance of business websites).
In 2017, our focus will be variety. We want to bring you blog posts about the various aspects of our services and industry — and our team. You'll be able to learn more about how we can help to evolve your marketing, as well as adopt a few tips and tricks to keep your business's marketing at its peak.
Most Popular Social Media Posts
With new marketing coordinators on board, nucleo has been able to strengthen our social media marketing and deliver more frequent, branded, and engaging social media posts.
In 2016, we gained 84 Facebook followers, made 23,400 impressions on Twitter, and earned 2038 'likes' for our Instagram pictures. It's been great to see the team effort that has been going into nucleo's social media marketing, and we can't wait to show you what we're up to throughout 2017.
Life Lessons From 2016
While we look back on the year that was, we can discover nostalgia, accomplishments, and (most importantly) lessons learned from our marketing efforts. Here are just some of the valuable things we have learned in 2016, which will help to guide us through the years ahead:
COMMUNICATION IS KEY
We've always known the importance of communication. It's practically our catchphrase: "Creating communication that works". And when it comes to our clients' needs, communication is no obstacle. But in 2016, we delved further into the depths of internal communication. We invested far more in our internal marketing and workplace relationships, and it has certainly paid off.
We began sharing more personal (and much more frequent) posts about the happenings at nucleo, which has improved our social following. We overhauled our project management process, which has prompted greater productivity and shorter turnaround times. And we continued to enjoy team-building events, overall creating a happy and dynamic place to work. These things we are determined to continue in the new year.
BRANDING FOR THE BETTER
After overhauling nucleo's brand story, helping to launch numerous startup companies, and revitalising the brand of several well-established businesses, we know one thing for sure — understanding the brand continues to be the most crucial factor in creating a successful marketing strategy.
'On-brand' is a phrase thrown around a lot in our studio. When we create a blog post, social post, website, print design, or anything else for a client (or indeed, for ourselves), we ask, "Is it on-brand?". Does it adhere to the history, look, feel, and mission statement of the business? The importance of this cannot be overstated, and now, with some of our employees dedicated to brand strategy, we can continue to deliver top-notch branding.
IN IT FOR THE LONG HAUL
A wise man once said, "Never half-ass two things. Whole-ass one thing". Oftentimes, we have stretched ourselves thin, determined to help everyone with everything. But quality, as it often does, trumps quantity, and in 2016 we learned to be more selective with our opportunities, devise better time management strategies, and thus deliver exceptional services and projects.
We also focussed more strongly on the importance of long-lasting client partnerships. This lent a special kind of personalisation to our projects; we were delivering results that really worked for our clients, because we knew them intrinsically, and understood their specific goals. It matters to us that we can regularly touch base with clients, which is why we have implemented several marketing coordinators and project managers across NSW to keep us whole-assing things into the new year.
Fare Thee Well, 2016
As we prepare to farewell 2016, we recognise the value not only in reflecting on the year that was, but also in planning for the road that lies ahead. nucleo will be closed from December 23rd – January 9th, but we look forward to returning, refreshed and ready to make our mark on 2017.
To all of our clients, we thank you for your continued business and support. Merry Christmas, and see you next year!