Don't Touch That Dial — TVCs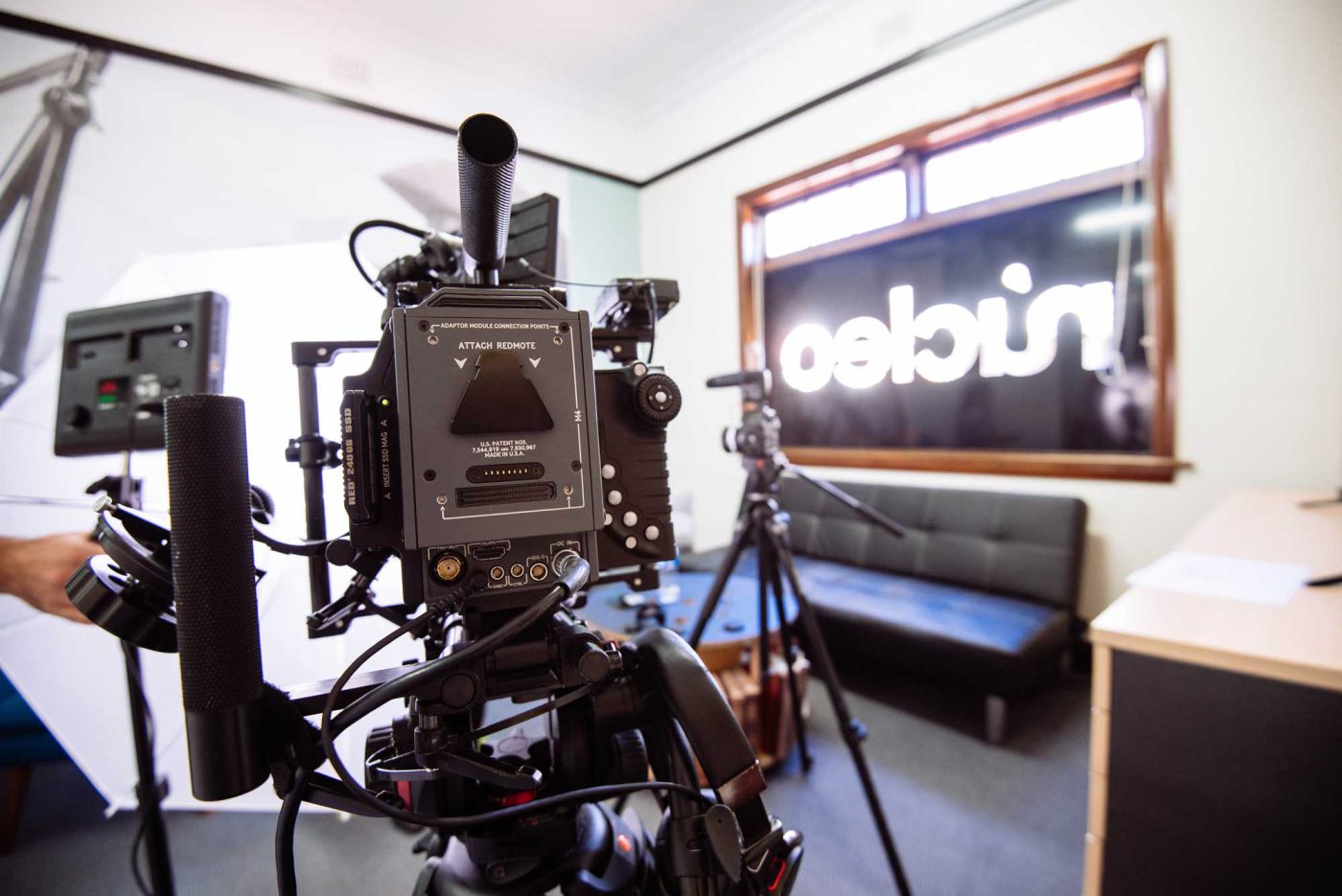 How to produce an effective TV commercial
In an age where everyone is promoting their business through social media and digital advertising, it is crucial to seek platforms that make your brand stand out.
Videos, animations, and television advertising can be a highly influential way to share your message. TVCs diversify your content, engage potential customers, and cut through the noise of a busy advertising space.
With talents including filming, animating, designing, writing, storyboarding, sourcing talent, editing and more, nucleo is your production partner for all things related to media. Our videography team are passionate about audiovisual communication — and they know how to tell a great story!
How can TVCs improve my advertising?
The best advertising plans incorporate a combination of assets and mediums. Television commercials are one such strategy that can build your brand, improve conversion, and help you achieve marketing success.
TVCs offer many advantages for your business, including:
Demographic targeting — Television commercials are able to reach a broader audience, including an older demographic of viewers who may be less likely to encounter your digital advertising.
Improve brand awareness — TVCs build awareness and interest in ways unlike print or digital advertising. Television commercials can take advantage of a generally consistent viewership, and use unique visual and aural stimulation to create a memorable message. This not only improves visibility, but shares the qualities and benefits of your business with a large audience.
Drive people online — Today's audience enjoys a multi-screen experience; they have access to (and can be affected by) a media mix of televisions, computers, phones and tablets. TVCs are a great way to promote your other marketing outlets. Surveys have shown that when TVCs are used as part of a comprehensive strategy, viewers are more likely to visit your business's website or social media platform.
Digital advertising — Your television commercials could also be used for online video marketing. This can help you to expose your business to a wider audience; after all, YouTube alone receives billions of views each month.
Position yourself as an expert — For many people, seeing is believing. A well-produced video is an opportunity to demonstrate your products, services and ideas, which allows viewers to visually understand the potential of your business. This can help your brand to be perceived as more credible, valuable, and experienced.
What makes a good TVC?
So we've explored some of the advantages that a TVC can bring to your brand. But how exactly do we produce a good TVC? Every business will have a different message and desired tone that they wish to express through their video advertising, but there are a few good tips that our videographers keep in mind:
Good planning — Long before we bust out the camera, our team undergoes a thorough process of planning and brainstorming, where we consider the key messages, scripts, locations, styles and resources that will suit your vision, business and budget
Instantly compelling — The average TVC is only 30 seconds long (with 15-second and 60-second ads also being common). In this time, you need to tell a story, promote a product, extend a CTA, and overall advertise your business. To ensure that viewers stick around, we need those first 5-10 seconds to be particularly engaging.
Brand recall — Cleverly created videos make it easy for viewers to not only remember what your video is about, but also which brand was behind it. This will be important when they are making a purchasing decision. Using elements of humour, entertainment, shock, melancholy and other extreme emotions can be a great way to make your business memorable.
Brand representation — A crucial part of effective brand recall is ensuring that your brand is clearly represented in the first place. Both verbal and visual cues can be used to promote your business's name, logo and products.
Keep it high-quality — A professional level of quality is an essential element of good TV advertising. This doesn't mean going beyond your means, but rather ensuring that your business is represented by good production value and backed by a solid strategy.
Why should I choose nucleo for my TVCs?
Your television commercials need to spark a connection between your brand and your customers. Entrusting your video advertising to a professional marketing agency like nucleo is the first step towards achieving a memorable and effective TVC.
So why would you partner with nucleo for your video productions?
Dedicated team — Our creative team boasts proven results in all forms of media production. nucleo's turnaround time for these types of videos is quick and efficient. We ensure the same staff member or small team carries out the project, from filming through to final edits, to provide a consistent vision.
High quality — nucleo uses the latest technologies and equipment to produce superior results. We shoot in 4K using RED DSMC cameras to create cinema­-ready footage, and bring animations to life with our skilled use of graphics, audio, and special effects. Our Ultra HD quality also allows you to capture stills from the video.
Range of styles — With in-house videographers, graphic designers, animators, script writers, editors and strategists, nucleo can help you achieve your video goals. We have experience with TVCs, digital videos, animation and so much more. Plus, we use the latest technology to capture top-rate photographs, films, drone footage and audio.
Promotional experts — You want the message in your branded commercial to be heard by as many people as possible. Why not utilise every form of media available? nucleo can integrate your TV advertisement with online videos, social media, radio, print and more to create a buzz and strengthen your brand recognition.
Regional focus — nucleo has offices and team members in Armidale, Tamworth, Brisbane and Wollongong, but our services extend throughout Australia. Whether your project is big or small, simple or complex, we can combine modern strategies and high-tech equipment with the authenticity of a rural perspective.
Passion for production
Great videos and animations are created when they engage with customers in meaningful and memorable ways. nucleo can help your business to harness the power of TVCs and promote them in synchronicity with your overarching marketing campaigns.
We can produce videos that establish your company as an authority, increase website traffic, improve sales, heighten brand recognition, and do wonders for your business. Contact us today to learn more about how we can help your business.
Want to see more? Change the channel: