Instagram & I
Sharing images and videos on Instagram is a visually exciting way to engage with customers and tell your story. But it might surprise you to know that people typically miss up to 70 percent of content on their feeds.
So how do you get noticed? How can you use Instagram to produce results for your business? We'll take you through the three main steps to maintaining a great Instagram profile.
STEP ONE: DEVISE A STRATEGY
As with most things, your first priority is to do some research. Naturally, if you are unfamiliar with Instagram itself, you will need to learn the mechanics about image creation, sharing, hashtagging, and so forth. Create a profile with a concise account name (your company name would be ideal) and a simple, distinctive profile photo. This will appear as a small circle, 150 x 150 pixels in size, so your logo or a graphic symbol would work well (just be careful of the crop). Our creative designers at nucleo can help you with this.
Next, investigate what other popular brands and businesses — especially your competitors — are doing on Instagram. This can give you some sense about what does and does not work, and provide a platform from which you can launch your own unique ideas.
Think about the actionable and measurable goals that you want your Instagram strategy to achieve. These goals might be to:
[bs_row class="row"]
[bs_col class="col-sm-3″]
Promote new products or services
[/bs_col]
[bs_col class="col-sm-3″]
Gain more traffic to your business website
[/bs_col]
[bs_col class="col-sm-3″]
Improve brand awareness
[/bs_col]
[bs_col class="col-sm-3″]
Improve customer–company connections
[/bs_col]
[/bs_row]
Setting goals from the beginning will help you to focus your Instagram efforts, track your progress, and create a solid content marketing plan. A big part of this plan will involve establishing a posting schedule.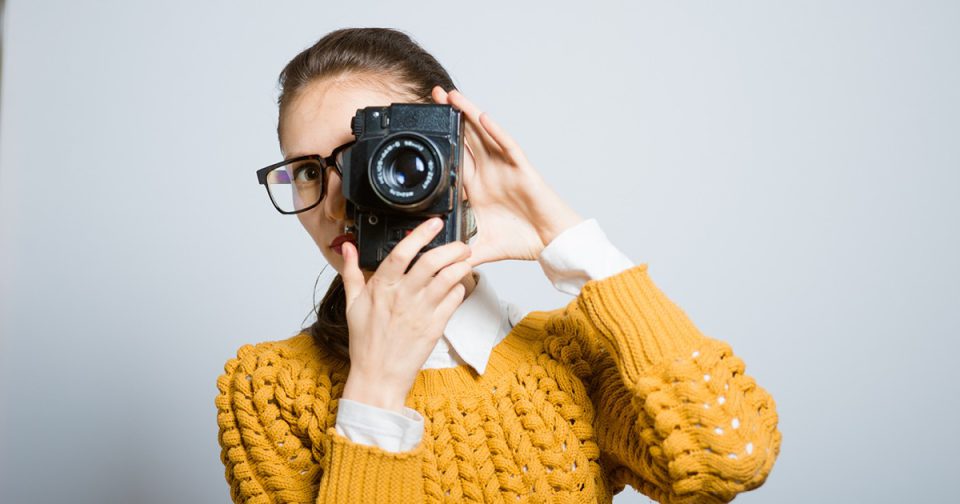 The time of day, and days of the week, on which you share your posts will affect their visibility and success, but this is reliant on your business's audience. Who are they? Where are they? Are they in your timezone? When do they check their feeds? As your followers grow in number, test your posts at different times and intervals, and see what works best. If you know your audience well, you can make educated guesses as to when they might be online, but the only way to establish an effective schedule is to post and test, then post and test some more.

STEP TWO: ESTABLISH A THEME
Your brand identity is the recognisable representation of your business's values, personality, and style. Your Instagram brand — the overarching story you tell through your profile — adds to and strengthens this identity.
Envision your business's brand, and consider how the visual aspects of Instagram could enhance it. nucleo can help to activate and enhance your brand, providing your business with a strong framework for its marketing efforts. Here are a few ideas to consider when forming a coherent and consistent identity on Instagram:
Choose the same filters — You can create instant impact by consistently using an identifiable colour palette, filter, or set of filters. This is a great way to build a memorable style; your followers are more likely to become familiar with your 'look', and take action when they recognise your image while scrolling through their feed.
Choose your subject matter — For some businesses, this will be easy. Fashion brands can share images of clothing; restaurants can post food. Other companies will need to think a bit harder about how to visually represent themselves. Product images are great for boosting sales, but what about photos of staff members at company events, coffees on Monday morning, or offices bursting with activity? Think about the unique ways that you could promote your brand, not only with business-related subjects, but also with lifestyle content.
Choose a personality — Maintaining a cohesive identity across your social media platforms is a great way to connect with your audience as an amicable brand, rather than a faceless, unfeeling company. The personality you portray on Instagram will be intrinsically entwined with your brand and target audience. Sophisticated and professional, quirky and endearing, emotive and all-embracing? The key is consistency. Know your brand, and create content that reflects it.
Instagram allows you to celebrate the look and feel of your business. Keep your ads consistently branded, establish connective elements, and make your business stand out from the feed.
STEP THREE: ENGAGE YOUR FOLLOWERS
An important part of being noticed is ensuring that you post frequent, high-quality content that expresses your business and encourages your followers to turn on their notifications. This involves not only images, but also hashtags, captions, and videos. These elements together form the basis of a solid social media marketing plan, so it is important to get them right.
Tips for hashtags:
Hashtagging is a very important non-visual aspect of successful Instagram marketing. Surveys have shown that more tags generally equates to more likes. These can include:
Content-related tags (keywords relating to your subject matter).
Location tags (which followers can use to see other locally-relevant photos).
Competition tags (phrases that are linked with current contests, encouraging follower-tagging and allowing businesses to easily find entrants).
Current most-popular tags (which are great at expanding your reach).
Branded tags (words or phrases that embody your Instagram brand and increase exposure).
Similarly to SEO keyword research, hashtagging on Instagram is a matter of knowing your audience and predicting the tags they will search for, relate to, and engage with.
It is also helpful to use tools like Hashtagify.me, which can help you find trending tags and avoid any negative connotations. (Does anybody remember Burger King's unfortunate "What the French Fry?" tag — #WTFF? A bit of research would have told them that #WTFF is commonly used for, um… something else.)
Again, it comes down to a matter of testing. nucleo's marketing strategists can assist you with this. Learn what tags receive positive responses, use a sensible amount of them, and ensure they are always relevant.
Tips for captions:
Instagram is a highly visual network, and so some businesses forget or neglect to write a caption, believing it to be unimportant. But in fact, the caption is an opportunity to expand on the image, provide context, slip in a witty remark (or not-so-witty pun), and tell a story.
When writing a caption, think about:
Length — Different word counts will work well for different audiences. Once more, learning what works best will be a matter of testing various caption lengths, and analysing which ones your followers respond to.
Emoticons — Emojis are used by 92 percent of the online population. These days, nearly half of all captions on Instagram contain at least one emoji. Love hearts currently receive the most engagement, averaging over 120,000 likes and comments, closely followed by a number of different 'smileys'. Emoticons are a creative way to grab attention, communicate with followers, and keep them engaged; but don't use them in excess, or they'll quickly lose their appeal.
Grammar — Though many businesses may use interesting slang or funny acronyms in their captions, never forget the importance of proper spelling, punctuation, and grammar. This is essential in portraying a professional image and allowing your message to be easily understood by your audience.
The main point to take away from this is that your caption should add value to the image. When done right, the caption can increase engagement, earn you more likes, and be an influential element of your Instagram strategy.
Tips for images:
Your customers turn to Instagram for captivating, interesting, and inspiring content. This makes it an excellent platform for visual storytelling. Advertising with images on Instagram can bring people to connect with your business in a new way, and encourage them to take action.
In order to attract attention and engagement, your images need to be high-quality and distinct. You don't necessarily need professional gear, but businesses are expected to maintain a professional standard of images — high resolution, well-composed, sharp, and uncluttered. Think about how your image will appear on a small screen. Alas, there is no single trick of the trade to help you create impactful images. But these few tips will provide you with solid grounding for your Instagram efforts, and may help springboard you onto new and unique ideas.
Edit your images — Instagram is renowned for its filters and creative effects, which give images that recognisable 'Instagram' look. If your customers use Instagram, it is understandable that they will respond to these types of tools. Use them to your advantage, and use them consistently for your brand.
Keep text minimal — Someone scrolling through their Instagram feed will only briefly see your image. Text that is too small, difficult to read, or too long is unlikely to capture the eye. If you need writing to be noticed, keep it large, interesting and legible.
Try Carousel ads — Carousel ads are a format that allows brands to share additional images, as well as a call-to-action button that leads to your website. Users can swipe left to view each image in the carousel, bringing flexibility and depth to your advertising.
Take a new angle — Consider how you approach your subject. Shoot from up high, or get down on the ground; come intimately close to your subject, or shoot from afar. Take photos from different viewpoints to create unusual and eye-catching perspectives.
Use white space — Emptiness can lure the eye just as much as colour. Place people against a white wall; sit objects on a white windowsill; create flat-lays on a white table. Using white space can make your image appear uncluttered and striking against a busy Instagram feed.
Host a photo contest — Instagram contests can engage your audience and improve your brand's reach. You could have followers share or comment on your photo, tag a certain number of friends, or post their own photo with a unique hashtag. The latter is most popular among businesses, as it strengthens your brand visibility and deepens customer connections.
Practice make perfect — Learning to take better Instagram photos won't happen overnight. Practice with different angles, compositions, framing, filters, lighting, subject matters… And importantly, try different styles to find the 'look' that suits your brand.
Remember that your audience will be scrolling through a feed filled with other images. Your goal is to share an image that stands out, and which consequently makes your business stand out. We have many talented photographers and graphic designers at nucleo who would love to help you with this. We can find ways to make your followers stop, look, and engage with your content.
Tips for videos:
Despite the relative newness of Instagram's 60-second videos, the feature has already proven to be popular. In fact, Instagram recently announced that time spent watching video content has increased by 40% over the past six months, with studies indicating that Instagram videos receive twice as much engagement as photos.
This means that videos are a thriving opportunity for you to gain followers and extend your reach. Here are a few simple points to help you create quality videos ads for Instagram:
Audio — Using music that compliments your footage can elicit emotional responses, make the ad more memorable, and bring a unique element to the video. Search for royalty-free tunes or use your own MP3 track. Conversely, your video may benefit from silence, drawing focus to the visuals on screen.
Aspect ratio — Instagram videos can be displayed at either 16:9 (1920 x 1080) or 1:1 (1080 x 1080). Keeping in mind that the majority of users will access Instagram on a smartphone, we recommend using a 1:1 ratio. This will create a bigger presence and play larger on mobile, working to grab people's attention as they scroll through their feed.
Cropping — Most advertisers will opt for professional footage shot on video cameras, which looks sharper and offers greater manipulability than mobile camera footage. Consider the crop when shooting video and leave room to accommodate for it; make sure everything you want to see is centred within the frame.
Length — Instagram lengthened their video capability from fifteen seconds to sixty, but you needn't go to the maximum length. You could even upload a video as short as three seconds! Make your video ad as short or long as it needs to be to share its message.
Stop motion, Time lapse & Slow-mo — Time lapse and stop motion videos can be a fun and distinctive way to impress your followers. To create a stop-motion film, shoot a second of footage, reposition your subject, take another brief clip, and repeat until the video is complete.
There are many ways that you can use Instagram's longer video feature to enhance your business's profile. Have fun with it, be original, and connect with your audience in ways that you have never done before. And if you're not quite sure how to bring your ideas to life, come have a chat with our videographers at nucleo.
INSTAGRAM AND YOU
There are plenty of social media networks out there, but Instagram consistently performs with the greatest audience engagement for brands.
The three steps above provide a useful blueprint for using Instagram as part of your marketing plan, but there are many other things to consider. If you've never used Instagram, need help to devise a strategy, aren't sure how to take high-quality photographs, or are stumped by Instagram videos — fear not!
nucleo is always here to provide advice and services to keep your company ahead of the curve. Contact us today to start creating communication that works.